About Us: A Brief History of CDG
Our Beginnings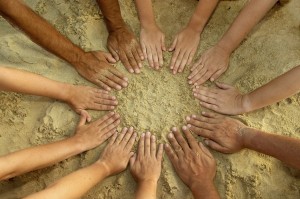 Shortly after the April 1992 riots in Los Angeles, a group of La Grange area residents organized a Unity Rally to express their belief that all people are important in a caring community.
After that first rally, more people came forward to help make La Grange a better place for all, regardless of race. Most of us had not realized that while our social and political institutions worked well for us, they were not working as well for some of our neighbors. The tension that exploded so tragically in Los Angeles gave us the strong desire to make things better. The Diversity Group was formed to do that job.
Also in the summer and fall of 1992, residents of the east side of La Grange were increasingly concerned by safety issues due to drug traffic in the neighborhood. Children and seniors were being harassed and intimidated by loud, idle groups loitering in the streets.
In response the Community Unity Organization, a Neighborhood Watch group, was formed, with block captains assisting the police to ensure a safer environment. We also decided to attend all court hearings on local drug cases so the judge and state's attorneys would know our concerns.
Diversity Group members helped with the court watch effort while Community Unity members joined in supporting the the Diversity Group. Over the next year or two the memberships and missions of the two groups continually overlapped, so a merger was proposed. In the spring of 1994, the two groups became one, as the CommUNITY Diversity Group (CDG) of La Grange.
Please join us in our mission to build a more caring community: click here
Activities During the 1990's
Acknowledging our cultural and racial differences
In January 1993 more than 100 people (half of them white and half minorities) attended two weekend workshops in La Grange. The theme was "Understanding Racism and the Assumptions which Make It Possible." A common vocabulary and comfort level was established so participants could more easily discuss difficult issues. All came away with a new understanding of themselves and others.
In February 1993 and again in 1994, an African-American Write Night was held at Lyons Township High School during Black History Month. High school students were paired with community residents, some of whom had never attended high school, and used computers to transcribe stories from these residents' lives. Engrossed and intrigued, the students gave voice to a previously voiceless minority. The La Grange Historical Society has one edition of these writings.
Celebrating the richness these differences give our society
The Race Unity Rally became an annual affair. Every second Sunday in September, we hold a public forum to celebrate the diverse talents and traditions that make up the La Grange area. We are broadening the scope of the rally year by year to encourage participation by all people.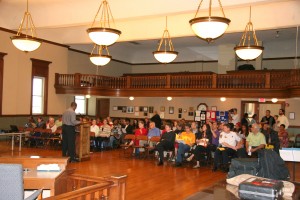 Understanding the implications for our social and political structures
Working with the staff at Lyons Township High School, CDG has helped build a better understanding of race-related challenges and situations facing high school students. School objectives regarding multiculturalism were then developed to impact both the curriculum and the general school environment. Similar efforts were started at the elementary school districts.
CDG has encouraged local churches to become more inclusive in their community worship activities. In January 1994 a multi-faith workshop service was held at St. Francis Xavier Church which included Protestant, Bahái, Catholic, Jewish, Islamic, Buddhist, Jain and American Indian participants, with an ecumenical choir.
Over the years the La Grange Police Department has worked closely with CDG, occasionally attending our meetings to give updates on police-related activities. They have also initiated programs and then turned them over to us for implementation. "Kids at Work," an after-school study program for elementary students, was launched in October 1994. Programs such as this have enabled police and students to get to know each other in a positive way. Some participants also have earned scholarships for summer sports and academic programs at Lyons Township High School.
CDG Today
Accepting responsibility for building a caring community by incorporating these differences into our systems
The CommUNITY Diversity Group has over 200 supporters. Some of us serve on our village, school, library and park boards or hold administrative positions. Others are professionals, business people and ordinary citizens. As a result of the extensive contacts and discussions among our members, minority relations with the police department, village government, and local schools have improved significantly. We support and cooperate with:
La Grange Area NAACP
La Grange Police Department
The LeaderShop
Pillars (formerly Community Care Options and Pillars Community Services) and other groups working toward our goals.
The CommUNITY Diversity Group's annual activities include:
Scholarship Program
The Annual Scholarship Reception is held each year in mid-May at the La Grange Community Center. About 20 deserving young people are recognized and awarded scholarships for summer activities.
These children, ranging in age from Kindergarten to Eighth Grade, receive scholarships of up to $300 for music lessons, sports camps, and more. In order to qualify for the scholarship, the student was required to contribute 4 hours of community service at a facility such as a nursing home, hospital, library, or church.
Diversity Days in La Grange
2014 was the eleventh year in a row that the CommUNITY Diversity Group sponsored Diversity Days in La Grange, with events spanning the second weekend in September. The weekend typically begins with a family movie night at the La Grange Public Library, featuring a diversity-themed movie followed by a discussion of it. Past movies have included "The Great Debaters" and "Lee Daniels' The Butler".
Annual Race Unity Rally
The Race Unity Rally is an annual reminder to our community that we need to recognize and appreciate our diversity. We reach out especially to the majority population, to remind them that there are still many persons of color in our community who feel marginalized, whether because of racism, poverty or a tradition of isolation. Our hope was and is that by our tradition of valuing diversity, we can build a caring community for all.
The Race Unity Rally is held on the second Sunday in September at the La Grange Village Hall, and has featured presentations by:
Rob Breymaier, Executive Director of the Oak Park Regional Housing Center
The LeaderShop's "Watch My Feet" performance team
A special tribute to Jazz pianist and composer John Lewis, who was born in La Grange
Race Unity Day in La Grange Proclamation by the La Grange Village President
Presentation of CDG's annual recognition award, the Lifetime Diversity Achievement Award
Please join us in our mission to build a more caring community: click here